TJ Group
Website redesign and relaunch, online booking and payment and ongoing marketing activity results in huge growth for this exciting business on the south coast.
Client background:
TJ consists of TJ Transport Ltd and TJ Waste and Recycling Ltd.
TJ Transport is the bulk haulage arm of the company, serving the construction, building materials and waste industries with external transport solutions for their products and waste. They operate a network of inert recycling facilities producing secondary aggregate. To complement its own product range, TJ Transport sources and delivers a wide range of aggregates throughout the UK, providing a one stop shop for commercial and domestic consumers.
TJ Waste & Recycling Ltd is the waste management arm, serving both commercial and domestic consumers with a range of waste collection and disposal solutions in the south east. TJ operates a network of strategically located materials recovery facilities equipped to recycle up to 100% of waste received.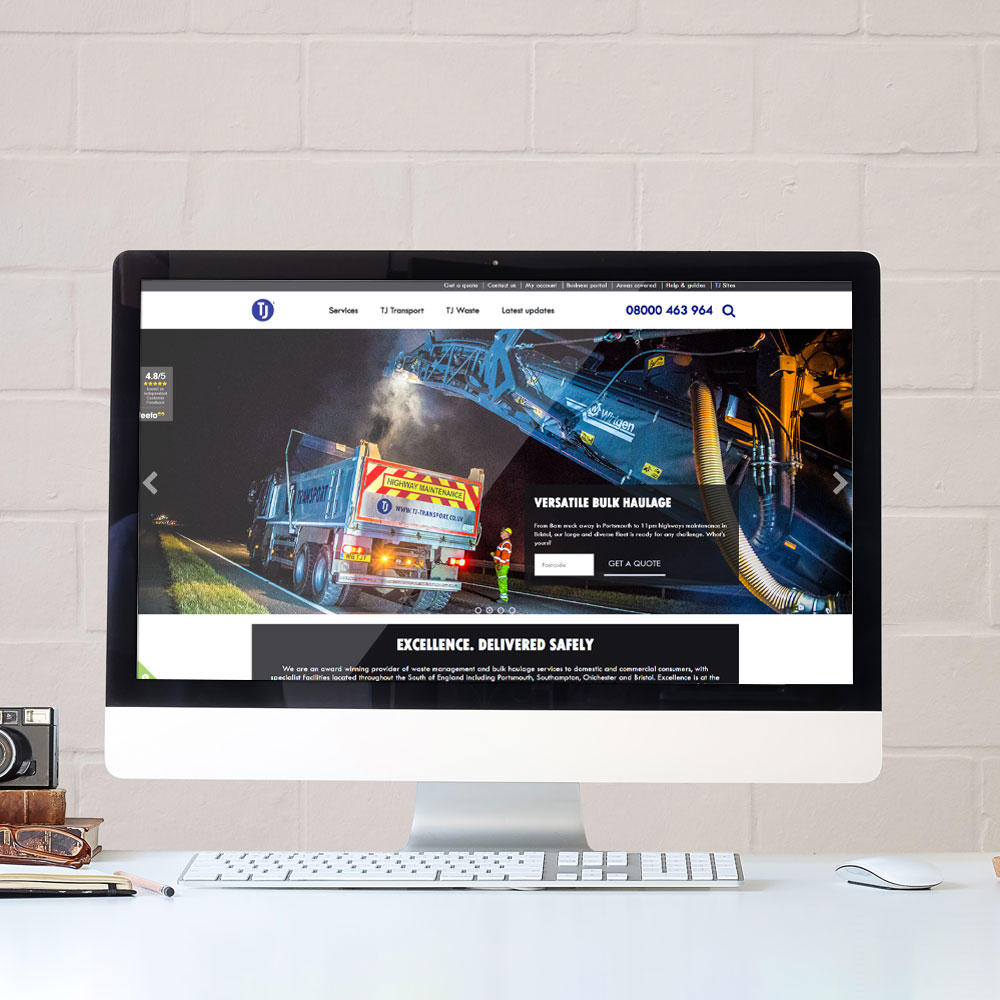 The requirement
TJ wanted a responsive website that adhered to existing TJ branding and appealed to all their respective audiences. Serenity Digital worked closely with the client's marketing team to discover what would work best.
The main tasks were to:
Create and build a new website that adapts to their audience's chosen device
Ensure that the site is optimised for search engines
Increase leads to the site and in turn orders for skip hire
Increase awareness of the brand, products and serivces
Ensure all sites and locations can easily be found (as the organisation grows)
The challenges
There were several challenges that needed to be considered and addressed in order to ensure that the new website could do its job effectively.
A saturated and cost sensitive marketplace, particularly in regards to skip hire, meant that TJ needed to differentiate itself with its high quality service levels and simplicity of booking via the new website.
The existing site had become stale and out of date, with slow refresh of content.
Waste management is not considered to be a sexy topic so it was imperative that the site was compelling and eye catching, demonstrating TJ's professionalism and experience.
From these challenges, it was identified that the priorities for the site would be to provide an efficient user experience via clear but comprehensive content, a bespoke skip request facility with live quotations and the integration of a payment facility.
The solution
Serenity Digital worked with TJ to come up with a phased plan to reinvigorate the website.
Phase 1:
A responsive search engine optimised website was built in WordPress. Hosting was provided and client training given on the site and system administration.
Phase 2:
Integration of a bespoke skip request facility with live quotations.
Phase 3:
Integration of online payment facilities to allow the quotation facility to take immediate payment.
Phase 4:
Implementation of new microsites to allow for bespoke sites for new quarries acquired by the group.
Phase 5:
Management of twice-weekly editorial content additions, with promotional posts on social media platforms to ensure a fresh flow of high-quality content.
Phase 6:
Integration of Grab Hire Lorry bookings and payment through the quotation facility already available for skip hire.
"When searching for a digital agency to help drive the continued growth of our business, Serenity Digital's ability to immerse themselves in our business to provide creative yet pragmatic solutions really emphasised that they were a cut above the rest. Our ongoing relationship is testament to their ability to translate our digital marketing needs into real business results and keep us at the forefront of our industry."
Luke Haskell, General Manager at TJ Waste & Recycling
The outcome:
Serenity Digital delivered the project effectively and efficiently, fulfilling all of TJ's requirements. Since the website was redesigned and relaunched in January 2016, TJ has seen their quotation engine completions double. With over 11,000 quotations requested per year since the beginning of 2016, they have seen an incredible return on investment.
Other improvements include:
A 30% increase in organic traffic
Site visit time is now over two minutes, up from less than a minute before the relaunch
The bounce rate (number of visitors looking at only one page) has dropped from over 70% to 15%
Users now look at over 4.5 pages per visit, up from 1.5 pages prior to relaunch
"Working with both the management and marketing team at TJ has been an absolute pleasure. They're committed to the growth of their organisation and take communications very seriously; as a result they align perfectly with the way in which Serenity Digital likes to do business. We've worked with them on some fantastic and challenging activities for over four years now and are looking forward to the next four!"
Peter Garrett, Director, Serenity Digital