Hellier Langston
Website redesign, email marketing, a bespoke search engine and ongoing marketing activities have aided the growth of Hellier Langston
Client background:
Hellier Langston
Hellier Langston is a leading south-coast commercial property consultancy, acting for a wide range of commercial property owners and occupiers within the office, industrial and retail sectors, as well as for clients in residential and commercial land sales and acquisition.
Their expertise spans all areas of the property industry including Business Space Agency, Retail Agency, Building Surveying, Asset Management, Valuation, Lease Renewal and Rent Reviews.
The variety of expertise and wealth of experience they hold allows them to offer a high quality service and an unrivalled ability to provide added value for their clients, who range from property owners, occupiers and investors, to public bodies and developers.
The requirement
Hellier Langston wanted a brand refresh that would inform the design and creation of a new website. It was also important that a bespoke database was integrated into the site to allow users to search for available properties easily. To follow on from this, they requested an update of their company stationery and a range of regular marketing communications.
The main tasks were to:
Provide improvements to reinvigorate the brand design
Design and build a new website
Integrate a bespoke database of current properties for promotion
Manage and design email marketing campaigns to further promote commercial properties
Update all company stationery and design future printed advertorials
The challenges
There were a number of challenges that came up along the way that needed to be acknowledged and addressed to achieve the best outcome.
Hellier Langston operates in a competitive marketplace with lots of local and national commercial property consultancies to compete with so they needed a brand and website that would allow them to stand out.
They required a lot of marketing activity in a short space of time, which meant the project had to be turned around quickly.
Brand awareness and the ability to promote their commercial properties effectively is key to obtaining new leads and uptake on their service offering so everything was riding on the success of the new website.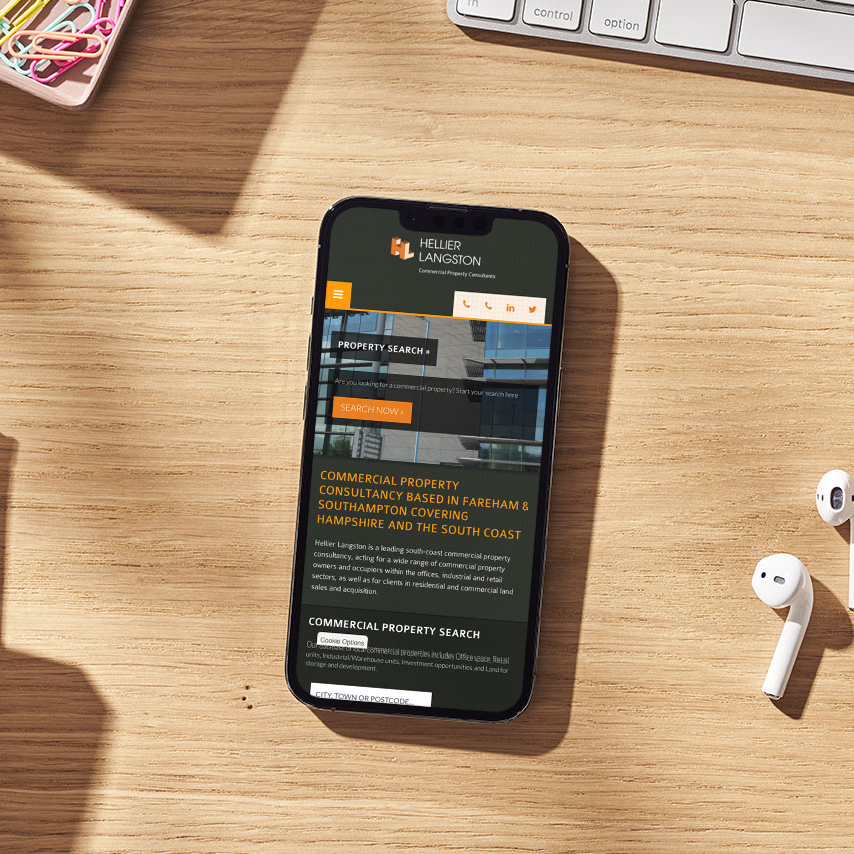 The solution
Hellier Langston selected Serenity Digital to work with due to shared business values such as personality, transparency and professionalism.
Since being appointed in 2013, Serenity has ensured that the website is Hellier Langston's main shop window - it has been through two redesigns and annual improvements to ensure it performs correctly.
The site is installed on Serenity's content management system and also benefits from a bespoke database extension, which allows the team at Hellier Langston to manage the additions of new properties easily themselves.
The site has a bespoke search engine that provides results in a map and pin format based on the criteria requested and the properties stored in the database.
Automated property alerts fire out from the website onto chosen social networks.
Email marketing campaigns are designed individually to ensure the particulars of each property are promoted and all campaigns link back to the website for more details and lead capture.
Regular printed advertorials promoting the latest commercial properties in industry publications.
"It was great working with Serenity to get our new website up and running. We now have a fast, attractive site with a fantastic property search facility that allows clients to see what's available instantly. The Serenity team is knowledgeable and helpful, and we're looking forward to working with them on a regular basis in the future."
Andy Hellier, Director, Hellier Langston
The outcome:
Serenity Digital delivered the project on time and exceeded expectations. The standard of the ongoing marketing activities provided has remained high over the years and has aided the growth of the organisation along the way.
High quality performance of website on speed checks (87% mobile and 100% desktop) as well as similar high scores on SEO reporting tools too.
Since launch, the website has seen over 43,000 individuals visit looking at well 270,000 pages of the site (roughly 4 pages per visit) and a low bounce rate of 18%
The site has been used to promote over 340 commercial properties in the local area
Sent over 300,000 emails across more than 80 property and newsletter campaigns with an average open rate of 24% and click rate of 2.5% (above average for Real Estate - 18% and 1.8% respectively)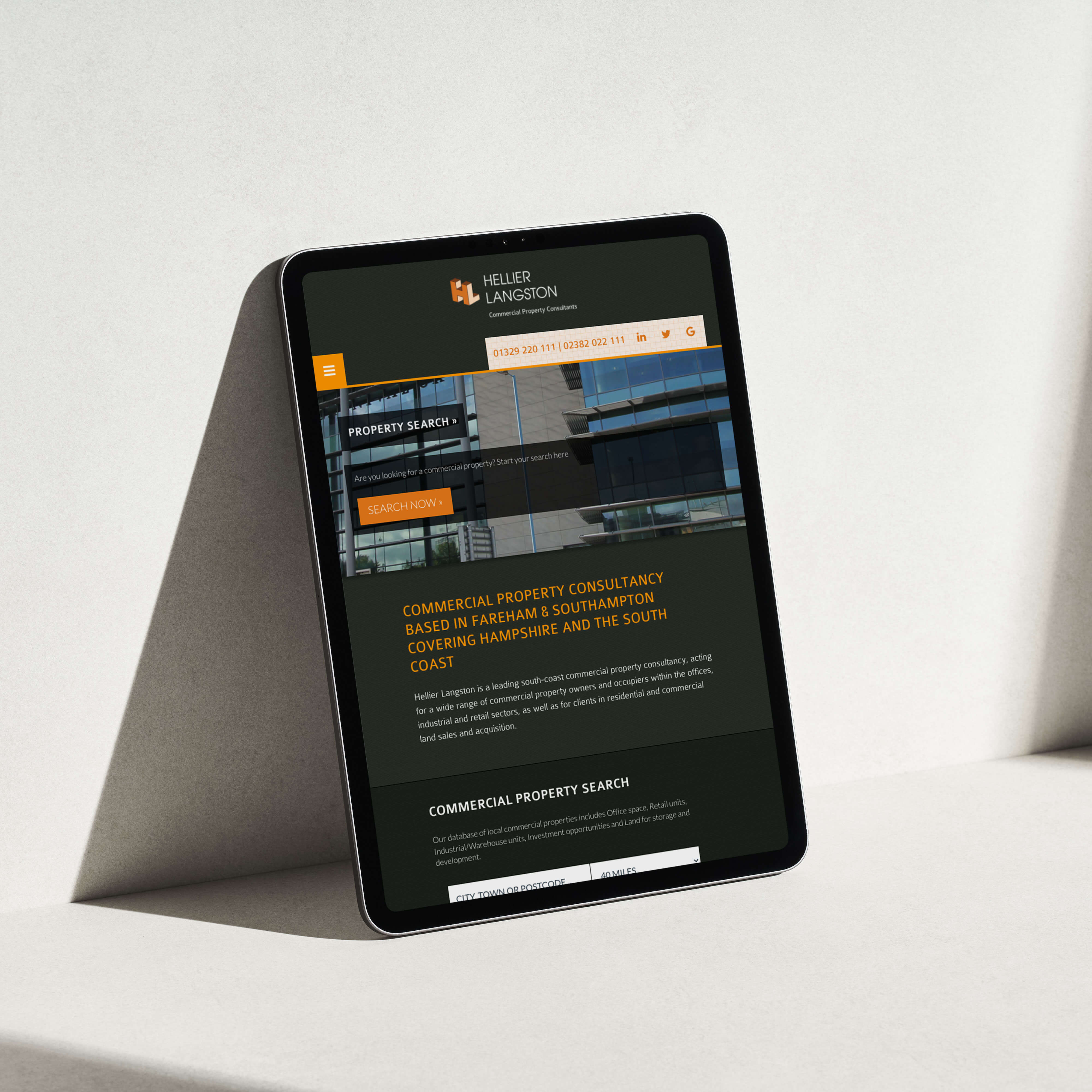 "It's a privilege to work with Andy and his team; they place a lot of trust in us to deliver high quality communications on their behalf. The positive impact our work has had on their business has led to a great working relationship with the whole team."
Peter Garrett, Director, Serenity Digital