Serenity: a great place to work
DATE: 16th March 2020
CATEGORY: company news
TAGS: employee engagement, staff remuneration
AUTHOR: Stuart Mullen
Liking the company you work for is such an important part of working life; if you don't believe in what they stand for, then what's it all for? Most of us spend a significant amount of time at our places of work so surely there should be more ups than downs?
Many elements go into creating a pleasant working environment and Serenity Digital are one employer who go the extra mile to ensure the happiness and wellbeing of their staff.
What's in a name?
Serenity by name, Serenity by nature! One of our core values is staff wellbeing. We always strive to provide the nicest possible work environment for our employees. Not only do we feel that this is the right thing to do, but it also creates a happier and therefore more productive workforce, so it's win-win.
In your surroundings
There are many things that contribute to an ideal workspace. At Serenity, we like to create an environment that's conducive to work, but that also has a laid back, relaxed feeling. We have an Amazon Echo in the office so staff members can request tunes which are played at a low level so as not to disturb, just create a bit of ambience. Sometimes silence can be deafening! We've recently created a collaborative playlist, giving all team members the chance to put their favourite songs forward for inclusion - as you can imagine it's quite an eclectic mix!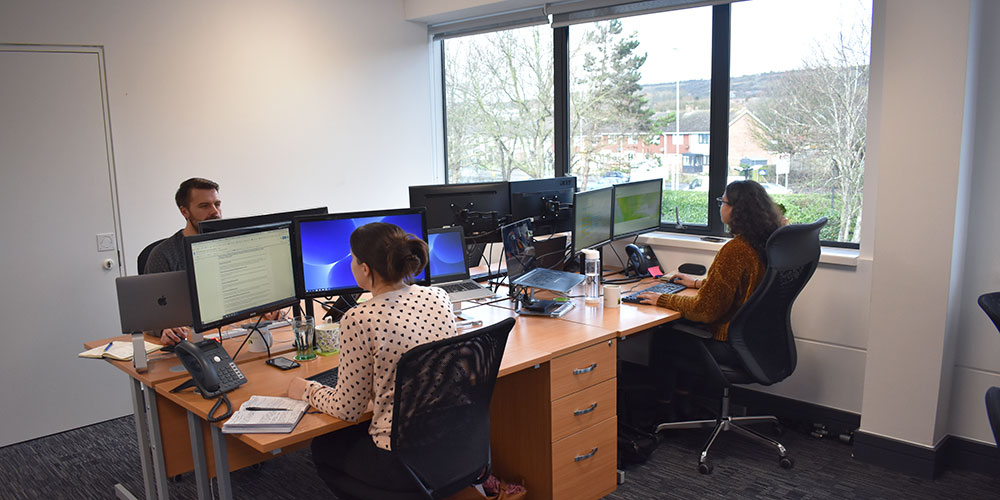 We also understand that sometimes you just want to crack on, so we welcome individual headphone use to zone out office noise; this is particularly useful if phone calls or meetings are taking place. White noise tracks are great for when you just want some background noise, or you can of course put on your favourite album!

Having a nice amount of space to work in is important too. No one likes to be crammed into small spaces, having to edge round furniture and people! Serenity's office is spacious and well laid out so everything's to hand whilst each team member has more than enough space for themselves and their things.
Location, location, location
Serenity's office is doubly delightful in terms of location and facilities. We are based at Pure Offices in Port Solent, a managed office block that leaves us wanting for nothing. We benefit from a high quality room with excellent facilities including shared kitchens, break out areas that can be used for informal meetings and break times, meeting rooms for more formal use and most importantly, free parking right outside!

There are also regular social gatherings in the break out area, where occupants are invited to join, mingle and usually, eat cake! These mark occasions such as Valentine's, Easter, Halloween and Christmas amongst other things.

Being in Port Solent is lovely too. We have a first floor corner office which offers us views of Portsdown Hill when we cast our eyes outside for a screen break. And the Boardwalk at Port Solent is just a stroll away; handy for lunches and the odd sneaky after-work drink!
Perk up!
The perks really are endless! Not only do we benefit from competitive salaries and monthly pension contributions, but staff can also look forward to an annual bonus, which is awarded according to individual and company performance. In addition to that, Serenity supply free hot drinks (the hot chocolate even comes with marshmallows!) fruit and chewing gum.


With wellbeing in mind, Serenity created Feel Good Friday. This takes place the first Friday after pay day (woo hoo!) and staff are offered a free massage. A mobile masseur arrives onsite, a private meeting room is booked and the massages commence! You can choose which area of the body the masseuse works on and thereafter will follow 30 minutes of bliss. Staff return to their desks knot-free and relaxed.

As if all that wasn't enough, Serenity goes the extra mile by offering quarterly socials. These are a great way for colleagues to unwind and get to know each other better. A different team member organises each social so everyone gets a chance to choose an activity. In the last year alone, activities have included bowling and Wagamamas, curry night, Thorpe Park and last year's Christmas do - taking on the Crystal Maze followed by dinner, cocktails and mini golf at Swingers in London! And the best part - it's all on Serenity, so no cost to staff - fantastic!
Creative freedom
At Serenity, there's strong leadership but also the freedom to get on with your job and manage your own time and tasks. Everyone has their own areas of speciality and knows the best ways to accomplish their projects effectively. This is a great way of working as it allows you to take ownership of your own clients and workload and the outcome is always positive for all concerned.
Corporate Social Responsibility
Serenity is an avid supporter of the Clanfield Challenge, an annual event that brings together runners of all ages and abilities. The proceeds of the Challenge go to local causes on an application basis, so many different community groups are able to benefit from this to get essential resources for their group or project.

Serenity was part of the Challenge's founding committee and offers their creative services for free. This includes the set-up, design and continual running of the website and ticketing system, social media postings, email marketing and design of all merchandise including medals, water bottles, signage tickets, t-shirts and more.

Christmas saw Serenity give a little bit extra in the name of Save the Children. The entire team took part in Save the Children's Christmas Jumper Day, prompting clients and observers to donate to this worthy cause. We ran a campaign throughout December encouraging our customers and social followers to donate to Save the Children and to also enter our Christmas competition to win a Polar Ignite fitness watch. It was great!


Find out more about Serenity Digital and keep your eye out for any jobs that come up! Discover the wide range of marketing services we offer and how we could help you improve your business prospects...
&laquo All blogs